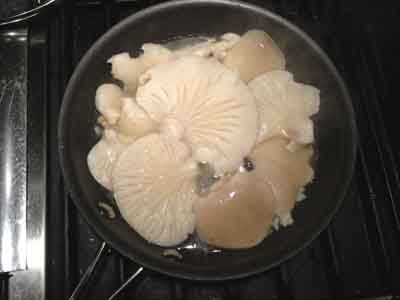 Preparation Instructions:
Preheat oven to 375 degrees.
Drizzle mushrooms with a little olive oil, then sprinkle with salt and pepper. Roast for 20 to 25 minutes, or until golden brown. Set aside.
In a large pot, heat additional olive oil along with the butter over medium heat.
Throw in the sliced onions and saute for a couple of minutes, or until beginning to turn translucent.
Pour in wine and whiskey and allow to bubble for a minute or two.
Pour in broth and allow the liquid to reduce for a couple of minutes.
Stir in cream and reduce heat to low.
Add mushrooms, salt, and pepper, and simmer until sauce thickens.
Toss in cooked pasta, using a little hot pasta water if sauce needs a little thinning.
Taste for seasonings and add immediately.
Enjoy!
Ingredients Needed:
24 ounces, Weight Sliced Oyster Mushrooms (Italian Oysters Are Best)
2 Tablespoons Olive Oil
Kosher Salt
Black Pepper
2 Tablespoons Olive Oil
2 Tablespoons Butter
1 Whole Large Onion, Peeled And Sliced
1 Cup Dry White Wine
3/4 Cups Whiskey (Jack Daniels Is Good)
1/2 Cup Chicken Broth
1 cup Heavy Cream
Salt And Pepper, to taste
12 ounces, weight Mostaciolli, Cooked Al Dente